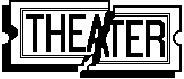 SPIDERS, an original stage play. Written and Directed by Darryl Vinyard. Produced by Eight Legs Productions and The Bitter Truth Playhouse.
WHERE: The Bitter Truth Playhouse, 11050 Magnolia Blvd., North Hollywood, CA 91601.
WHEN: March 24 to April 30, 2000. Performances: Fri. and Sat. at 8PM, Sun. at 5PM
RESERVATIONS: (818) 755-7900
SPECIAL THANKS TO:
Joel Acker
Curtis Wise
Contact the Webmaster
Questions about the play?